Multiplayer game
| | |
| --- | --- |
| | Shmear 4 |
Shmear Online is our latest online card game for Windows. The games included are Shmear, Crazy Shmear, Pitch, Kitty Shmear, Jick Shmear, Partner Shmear, Partner Pitch, & Partner Jick.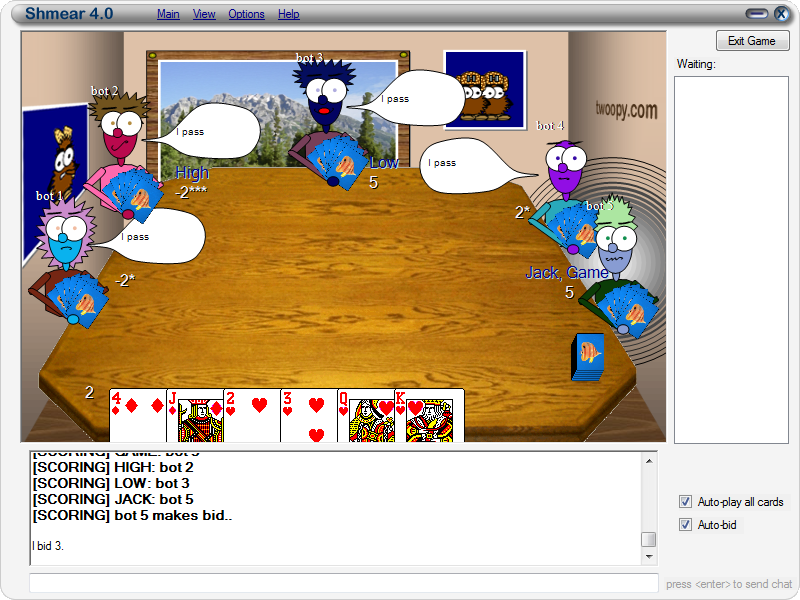 Screenshot of Shmear 4
All Shmear 4 users can play for FREE* each day!
If you would like to have unlimited play time and access to the Member web site click here to become a member.
Click here to Download Shmear for Windows (current version is 4.0.0.7)
To check your in Shmear4 version click "Help > About".

*Non-members are limited to 30 minutes of free play each day.
Version 4.0 has the following new features

4 or 6 player games
Private games
4 different ways to play a card

keyboard [0-6]
click
double-click
drag-n-drop

Ability to re-arange cards in player's hand
Customizable game characters (eyes, hair, mouth, skin, & clothing)
Customizable sounds, visual options, & gameplay settings
Chat with cartoon chat bubbles
Customizable game speed
Improved scoring (winner gets extra points for opponent's sets)
Ability to send special commands (help, nugde, boot)

Click here to download and install Shmear 4.0 (Windows)

After installing, You will find a link on your Start bar under the group "Twoopy Entertainment". You can securely create a new Username here.

If you need further assistance after starting the program click here for help.

If you are a current player of Shmear 3 you will need to verify your eMail address to play Shmear 4. To request an eMail verification, click here.

By using our software you imply agreement to our license agreement.