| | | |
| --- | --- | --- |
| | Shmear 4 Help | |
When you first run Shmear Online you will see the following screen: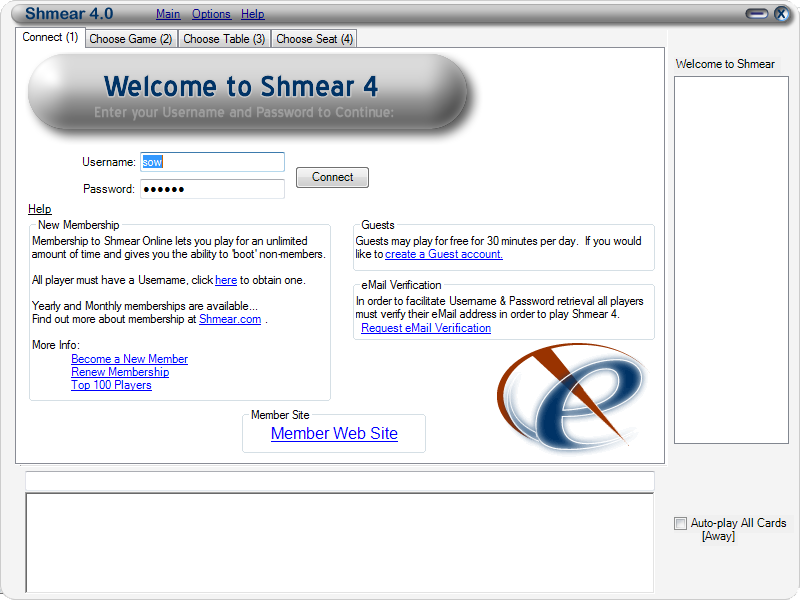 Enter your username and password and click 'Connect'. If you don't have a username you can get one by registering above or by clicking the 'create a guest account' from within the game.
---
Once you are connected, you will see the following screen:
The only thing you will probably use this screen for is to click a button corresponding to the Shmear Variation that you would like to play. But, the "players online" numbers will let you see how many players are in each lounge (as you may have guessed there is one lounge for each Shmear variation). The number after the words 'Players who are Online but not in a Game Lounge' is a count of the players who have not yet clicked a game lounge button (including you!). At this point, you can chat with all players who are not yet in a game lounge,.. ..such as yourself.
---
Once you select a Shmear Lounge you will see the following: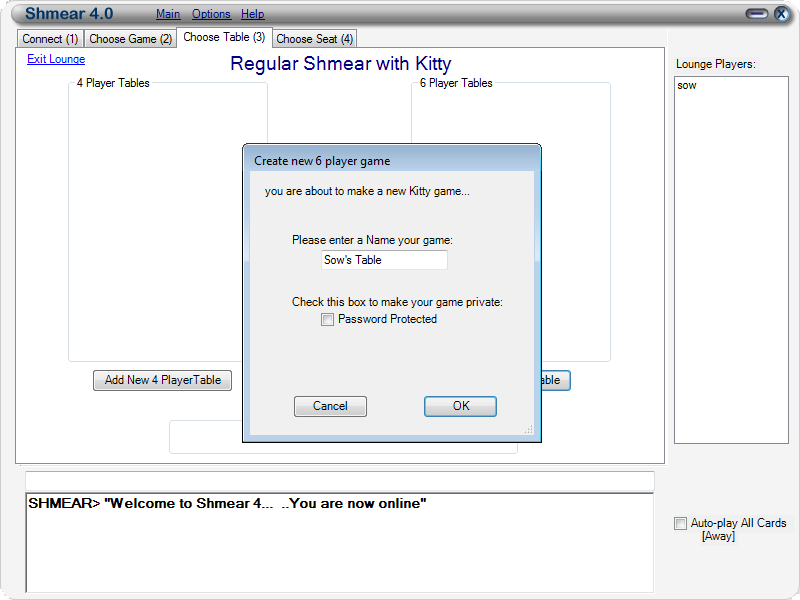 The lounge name (Shmear Variation) that you have entered is listed at the top of the window (in this example 'Regular Shmear with Kitty'). All of the available Shmear games are listed in either the 4 player or 6 player columns. If you wish to enter an existing game just click the 'Join' link (not shown). You may also create your own game by clicking one of the 'Add New' Table buttons. If you select the 'Password Protected' checkbox then you will be prompted to enter a password for your new game - and players will be unable to join your game without providing the same password. In this screen, you may also chat with players who are in the same lounge as you, but who have yet to enter a game (a list of whom are on the right hand side of the screen).
---
Once you have either created or joined a game you will be able to choose your seet as shown in the following screen. In partner games be sure to sit across the table from the person you wish to have as your partner.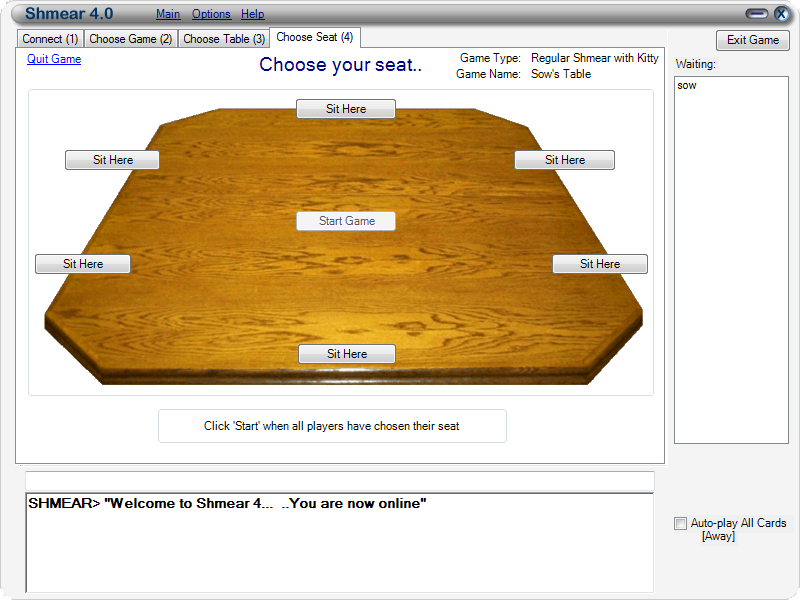 The game type (Shmear Variation) and name of the game you are in is shown at the upper left corner of this screen. If the 'Start Game' button is visible and all players are seated, simply click the 'Start Game' button to begin play. If the 'Join Game' button is visible that means that a game is already in progress. Click 'Join Game' when you are ready to join in the fun.. ..please note that you will have to wait for the current hand to end before you will be able to play.. ..until then, you will only be able to watch the other players play their cards. From this screen you can chat with players who are playing getting ready to play.
---
After you either Join or Start a game you will see the following screen.. ..which is where almost all of the action takes place..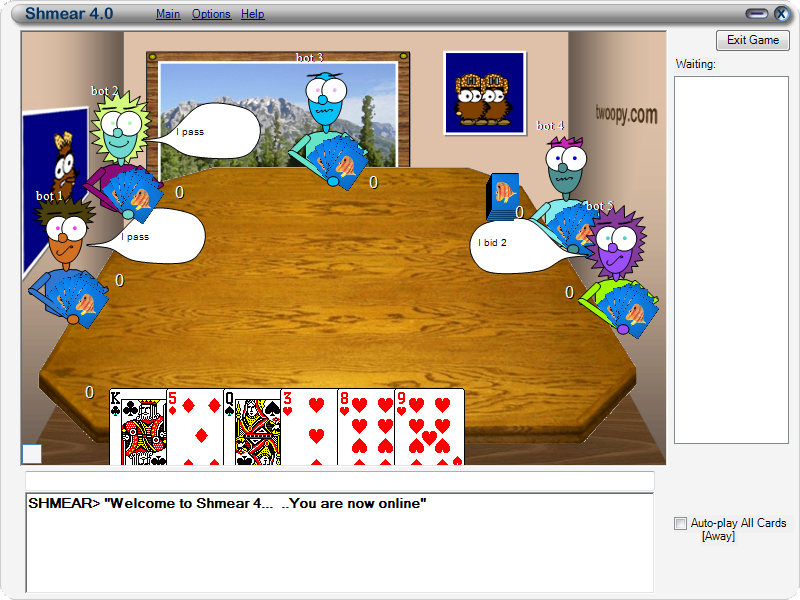 Here is a list of things that you can do while playing:
Click on cards, drag them, or type a number [1-6] to play a card

If you accidentally click on a card, click anywhere on the table to de-select the card
If you accidentally press the key associated with a card, press <Esc> to de-select the card
Cards can be re-ordered by clicking on one card and then another card
Invalid cards cannot be played (see Shmear Variation)
Cards can not be played until the words "Play a card" appear at the bottom of the screen

Make bids

You can not "shoot the moon" in Crazy Shmear
You can not "shoot the moon" unless you have at least 1 point
In Jick Shmear, if you are the last bidder you must bid 2. In all other games you can "pass" as the last bidder (forfeiting 2 points)

Chat (you can choose a custom chat font from the Options menu)

If your chat message is short enough other players will see it in a chat bubble next to your character

Change your appearance (type a semi-colon or right-click the chat line with the mouse)

Choose the appearance options you desire
Click Save to send your new appearance to your playmates
You can also create and save various appearance settings

You can change many options & change game play features from the Options menu
You can check 'Auto-play All Cards' if you need to get up and want the computer to choose your cards for you. You will still need to bid when the time comes, so try not to use this setting to leave the game for a lengthy period as this will cause the game to stall while others wait for your bid
Note that the person who has won the bid will be highlighted and that the deck of cards is displayed in front of the dealer